Government greens Free State townships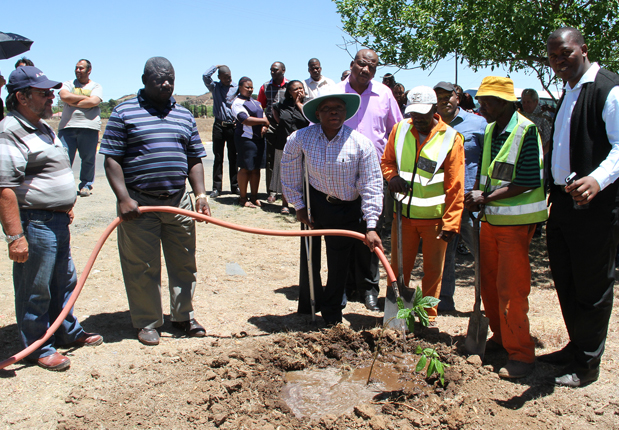 The MEC for police, roads and transport, Butana Komphela, planted 1195 trees in Trompsburg, a town situated in the Xhariep district as part of the Free State provincial government township greening project.
Besides greening towns, trees play a crucial role in reducing deforestation and carbon emission which leads to the reversal of global warning.
The Free State went green on Friday when 12 towns of the province were visited by MEC's led by Premier Ace Magashule who planted trees in towns throughout the province.
"We have identified towns to receive a ''green face-lift'' by planting 15 000 trees and plants in those areas," said Komphela.
According to Komphela, it was imperative to plant trees in Trompsburg to beautify the town and ensure that it becomes environmentally friendly.
"The Kopanong Local Municipality will be responsible for planting those trees and ensuring they are looked after. The trees were donated to us by the department of tourism, environmental affairs and economic development (Detea) who are currently running a government nursery."
Komphela said most of the towns in the province have been neglected in terms of tree planting and the provincial government is determined to correct the problem.
Detea spokesperson Khotso Tau, said the department wants to ensure that most of the townships in the province are greened.
"Due to the historical past and the spacial development plan, white areas boast green backyards because in the past municipalities only focused on white areas for planting of trees. To reverse this Premier Ace Magashule gave an instruction that the Free State townships should be given priority to create a green environment," said Tau.
According to Tau, the greening project entitled ''Ntlafatso ya Metse ya Rona: Re jala Difate'' has led to the planting of 200 000 plants and trees since 2004. He said despite the provincial government's efforts townships remain ''concrete and dusty'' areas compared to their leafy white neighbouring surbubs.
"A tree can be a natural air conditioner. The evaporation from a single tree can produce the cooling effect of 10 room size air conditioners operating 20hrs per day. One large tree can supply enough oxygen for four people per day," said Tau.
These 12 towns identified for greening in the province.